It's not too late to get in on "The Quest"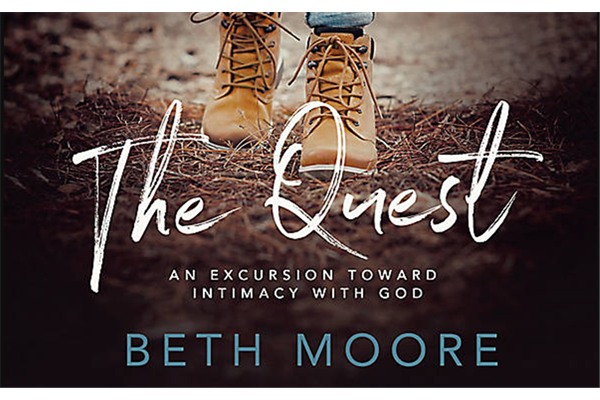 A Letter from Kari Powell:
Hello ladies!
I hope you're enjoying summer as much as I am.  We've started "The Quest" with Beth Moore.  It's teaching me things and making me think.  This week we worked on chapter 1, and will discuss it tonight and tomorrow morning in our Zoom meetings (click to get more info).  It's not to late to join us!!  This is a very personal study, and I'm finding it will make a difference in my relationship with God.  Even if you don't want to join us for zoom meetings – please think about getting a book and walking closer with God.
There's a link to order the books (via amazon, etc.) that can be found on the TFBC website (again, click for more info).
There are also videos that accompany this course.  The church has purchased these and has them available via a link.  If you're interested in watching the videos, and would like the link – please e-mail me (Kari) at Karitfbc@gmail.com or Lawna at Lawnac.tfbc@gmail.com.  We'd be happy to send you the link to the videos so you can use them on your journey.
The links to join us for Zoom meetings are also on the website.  Kari is hosting Tuesdays at 7:00, and Lawna is hosting Wednesdays at 10:00.
If summer is just too busy and crazy to devote to a bigger study like this, then maybe just a few scriptures to read or write each day will suit your schedule better.  On the TFBC website is a monthly scripture list all based on the theme of the sovereignty of God.  There is so much uncertainty and unrest in the world right now, it's a good reminder to dig into the scriptures that tell us that God in always in control!
Hope you can keep growing and connecting even though it's in an unconventional way!
Hugs & Prayers,
Kari
Sovereignty of God Devotional
---
It is strongly suggested that you purchase the Study Journal to aid in your participation in this study. You can purchase this book by clicking on any of the following links:
Here is a description of the study:
Find greater intimacy with God as you ask and discuss deeper questions of faith, seeing them as inherent and essential to growth. The Quest, a 6-session study, is a cross between a curriculum and a journal, between a classroom and a prayer closet, with three primary objectives:

*To promote deeper intimacy with God.

*To help foster a sojourner mentality to aid as comfort that we are only passing through this world on our way somewhere else. This is not our home.

*To foster an adventurer-mentality as royal subjects of royal blood unrecognized by the world but headed to an unshakable kingdom worth the arduous trip (Acts 14:22).

*Personal study segments with homework to complete between 6 weeks of group sessions

*Space for journaling and reflection during your personal journey
Preview Video of "The Quest" with Beth Moore